One Fall Hike Drive To Five Great Hiking Trails to View Autumn Colors
Take a drive along the scenic backroads to five of the best-loved hiking trails in The Hocking Hills with Fall colors! (https://maps.app.goo.gl/aY2NnHRnJns5Uaxb9)
Check out the Hocking Hills Fall Color pics here!
Conkles Hollow (Conkle's Hollow State Nature Preserve, 24858 Big Pine Rd, Rockbridge, OH 43149)
Rock House (Rock House, Laurelville, OH 43135)
Cantwell Cliffs (Cantwell Cliffs, 13540 OH-374, Rockbridge, OH 43149)
Lake Trail at Clear Creek Metro Park (Lake Trail, J929+47, Lancaster, OH 43130)
Christmas Rocks (Christmas Rocks Parking, 2340 Meister Rd SW, Lancaster, OH 43130)
Fall Hike For the Fearless & Adventurous
Hocking State Forest Fire Tower
Parking: Chapel Ridge Road and State Route
374 39.406022, -82.530615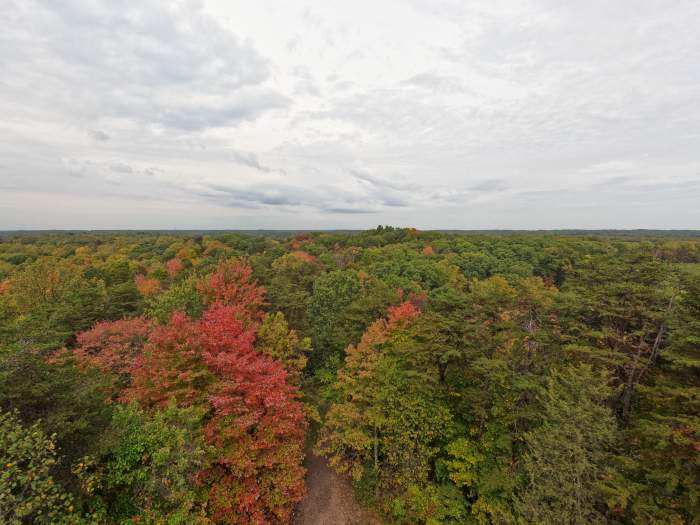 October 5, 2023
Three ways to visit:
Short: Park at the lot along Chapel Ridge. Take a short hike into the woods along the trail heading toward Ash Cave and follow the sign to the fire tower. Hikers who don't fear heights can climb to the top for breathtaking views.
Or Park at:
Cedar Falls: 1-mile, one-way. Out-and-back. Park at Cedar Falls in the large parking area (39.417324, -82.525646). On foot and exiting the lot, go to the left and follow the road until you see a service road trail to the left. This is part of the Grandma Gatewood Trail and leads into Division of Forestry. After crossing Chapel Hill Road, continue through the gravel forestry parking lot and to the trail which forks, the left fork goes to the firetower and is visible immediately. It is marked with a wooden sign. The right heads to Ash Cave.
Ash Cave: 1-mile, one-way. Out-and-back. Park at the Ash Cave Parking Area (39.395698, -82.545278). Follow the trail back to Ash Cave and up the stairway. Turn left at the top and continue on the rugged dirt path which will, in about one mile, pass the firetower. It is marked with a wooden sign.
What makes these rich colors?
Leaves turn green in spring and summer because of the amount of sunlight. The chlorophyll, which the tree uses to convert sunlight, water, and nutrients into food, is responsible for the green color of leaves. Chlorofil is a difficult chemical for the tree to produce, so it saves it by storing it down in the tree's roots over the winter. In the fall, when this process begins, the removal of the chlorophyll leaves behind the leaf's naturally occurring color; yellow and orange pigments are carotenoids, and reds and purples are anthocyanins. Eventually, the tree removes these pigments, and the leaves turn brown and drop from the tree in winter.